New open access publication: Guideline on the use of Meta's SNS for survey recruitment, including a flowchart template to facilitate reporting
GESIS has published our new paper "A Guideline on Recruiting Online Survey Respondents through Facebook and Instagram: A Case Study of Hard-to-Access Health Workers.". This survey guideline is meant as explores the vast potential of social networking sites (SNS), with a particular focus on Facebook and Instagram, as potent tools for recruiting survey participants, especially among hard-to-reach populations.
The aim of this guideline is to equip readers with the tools necessary to harness the potential of Facebook and Instagram as platforms for survey participant recruitment while facilitating much-needed comparability between studies. In the absence of established quality indicators, we propose a novel flowchart to report sample sizes across the recruitment process. Furthermore, we include a list of key features of the recruitment (such as advertisement budget and estimated reach) that should be included in all method reports.
In-depth Exploration: The guideline commences with a thorough exploration of the utilization of targeted advertisements on Facebook and Instagram for survey participant recruitment.
Practical Implementation: Subsequently, it provides a systematic breakdown of the methodologies involved in executing recruitment campaigns on these platforms. The step-by-step instructions facilitate accessibility for researchers at various proficiency levels.
Empirical Insights: Readers will gain valuable insights from an empirical study conducted by GESIS, showcasing the successful application of Meta's platforms in the recruitment of professionals within the German healthcare sector.
Reporting: The text includes recommendations regarding the reporting of key methodological parameters. Furthermore, we propose a flowchart that provides a clear and structured template for visualizing sample sizes throughout the recruitment process. Given the absence of established standards to report quality indicators a broad use of this template has the potential to significantly increase compatibility between studies.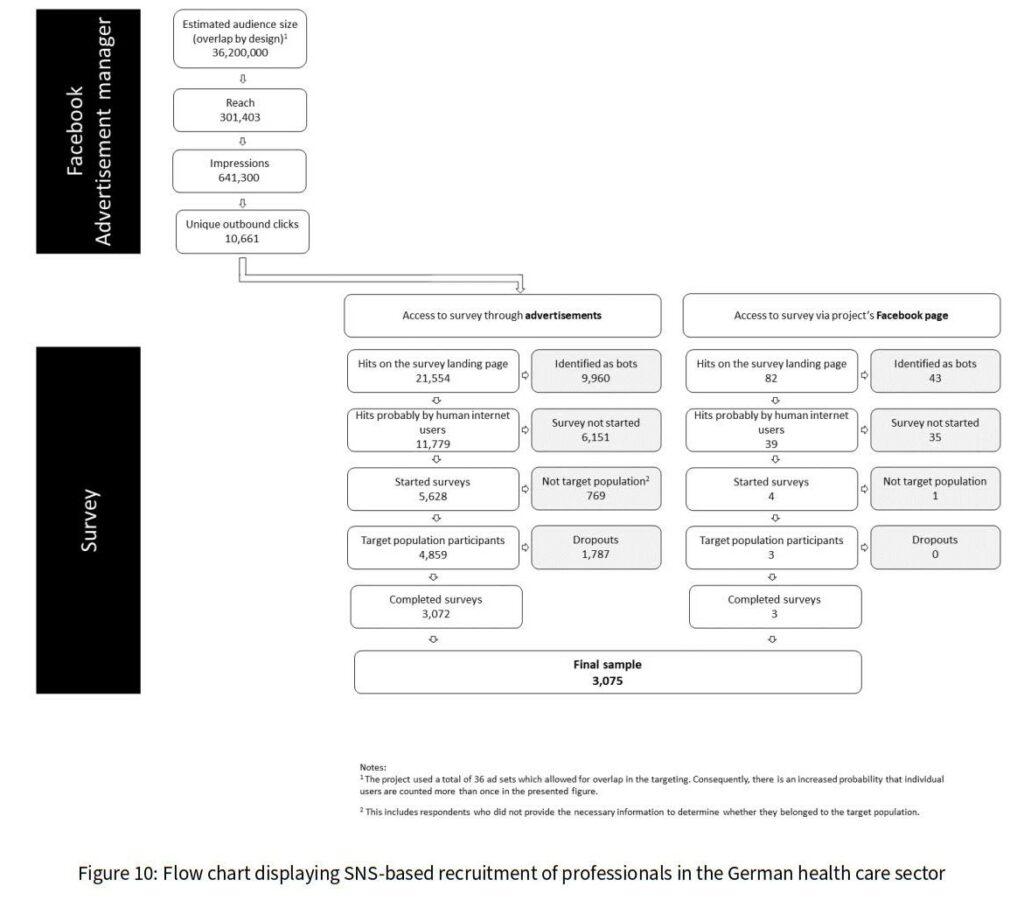 Terminology: To support researchers in navigating the intricate facets of Meta's advertisement interface, the guide includes a glossary encompassing fundamental terms encountered during usage.
Pötzschke et al. (2023): A Guideline on How to Recruit Respondents for Online Surveys Using Facebook and Instagram: Using Hard-to-Reach Health Workers as an Example. GESIS Survey Guidelines. GESIS – Leibniz Institute for the Social Sciences. doi: 10.15465/GESIS-SG_EN_045